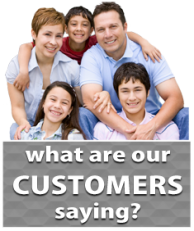 "We had two companies come in before these guys. Neither one could figure out the problem. Within 25 minutes of showing up they had the problem diagnosed and now it runs great!"

Terrence K.

"I kept having problems with the same two pop up heads getting clogged. They installed a debris filter in front of each head and now everything works. They are real life savers."

William T.
"These guys were on time. Got in and out quickly and now everything works great."
Phil H.
"My grandma had the same problem with the same area of her lawn for a year or two and had two companies, plus some family friends, take a look at it. Everyone thought they solved it, but it just kept stopping again. I finally went online and found your company, and the repairman you sent out took less than five minutes to decide it was a wiring problem, and he must have been right because she hasn't had another problem with it in a little over a year. Just wanted to say thanks again!"
Heather M.